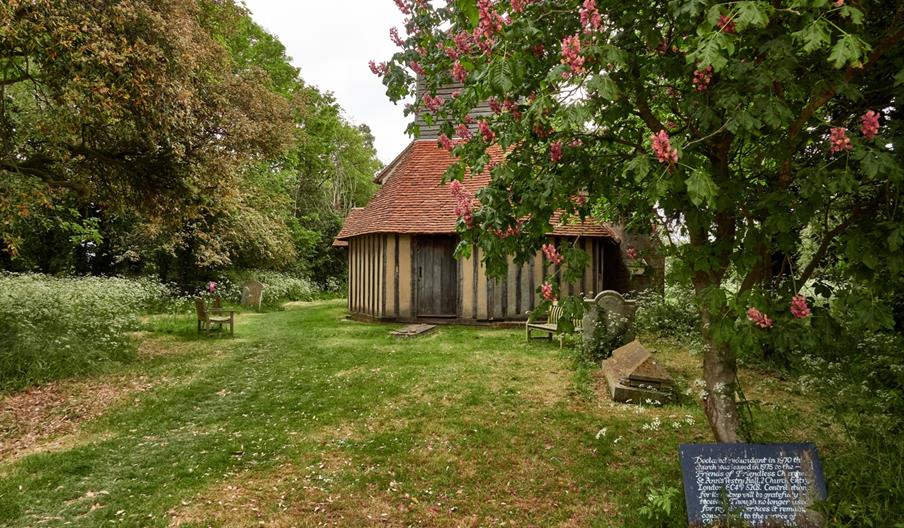 About
The church of St. Mary in Mundon is cared for by the Friends of Friendless Churches and it is now conserved as a Grade 1 listed medieval church. It is currently closed for repairs, but is expected to reopen in summer 2022
Squelching marshes, open skies and cockleshell spits make up the Dengie Peninsula in Essex. On it, you'll find St Mary's church with its curious double-storied Tudor tower wrapped in a timber-framed skirt. It could almost pass as a spaceship. And in fact, Mundon's apocalyptic landscape peppered with petrified oaks, inspired the Martian landing scene in H.G. Wells's, The War of the Worlds.
This isolated area is best known for the Battle of Maldon of AD 991. Beyond that this has always been a sleepy, out of the way place, the church of St Mary reflecting this in its unpretentious architecture. Hall and church once stood within a moated enclosure.
The earliest parts of the church are the nave and north doorway, which date from the 14th century. The unusual weather-boarded west tower was built of timber in the Tudor period. A 'skirt' of oak and clay hides its weight-bearing posts. The north porch was added in 1600.
In the 18th century the chancel was rebuilt in red brick and a rare rural baroque trompe l'oeil was painted on the East wall. In the early 19th century box pews were installed in the nave. The church has hardly been touched since the Georgian period.
In 1945 the church was damaged by an errant V1 Flying-bomb, and by the 1970s it was derelict and a target for vandals. Restoration of the St Mary's Church began in 1975 and it is now looked after by the Friends of Friendless Churches.
Map & Directions